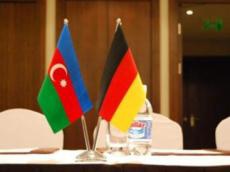 Religious tolerance in Azerbaijan stands at a high level, and success in this area is of great importance, according to Hanns-Ebert Schleyer, the chairman of the board of German-Azerbaijani Forum.
Azerbaijan's State Committee on Work with Diaspora hosted a meeting with the delegation of the German-Azerbaijani Forum on March 27.
Nazim Ibrahimov, the committee's chairman, met with the delegation visiting Baku, the committee's press service said.
During the meeting the parties discussed prospects of relations between Azerbaijan and Germany, spreading the truth about Azerbaijan in Germany, the development of activities of the Azerbaijani diaspora in Germany and other issues.
Ibrahimov stressed the importance of developing relations between Azerbaijan and Germany as the most developed country in Europe.
He added that the visit of the delegation, headed by the forum's chairman, Hanns-Ebert Schleyer plays an important role in this direction.
Ibrahimov also said this visit will play a positive role in bringing the truth about Azerbaijan to the German public.
Schleyer, in turn, also stressed the importance of developing relations between the two countries.
He said in Germany there is a 'vacuum' of information on Azerbaijan, and addressing this situation is one of the goals of his organization. Schleyer went on to add that a number of projects are being implemented in this direction, one of them being the recent visit of German journalists to Baku.
Samira Patser-Ismayilova, the board member and head of the Coordination Center of Azerbaijanis in Germany spoke during the meeting about the Azerbaijani diaspora's success in the process of integration into German society.
The well-known German journalist and publicist, Richard Kessler said during the meeting that a serious work is underway in Germany to spread the truth about Azerbaijan.
Another board member of the coordination center, Hans-Frederick von Ploetz highlighted the role of youth in the development of relations between the two countries. He stressed that student exchange with Azerbaijan would be effective.
Nazim Ibrahimov, supporting this idea, proposed to organize a forum of German and Azerbaijani youth in Berlin. He said the forum, which will be attended by the diaspora organizations, may be the beginning of the work in this direction.
Ibrahimov also proposed to increase the number of Azerbaijanis in the coordination center's board and invite influential public and political figures, residing not only in Germany, but also in Azerbaijan. The parties stressed that they will make efforts to implement these proposals.
It is expected that the representatives of the German-Azerbaijani Forum delegation will hold meetings at several state institutions on March 29 in Baku.

/Trend/