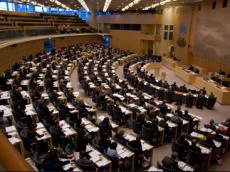 A declaration condemning the genocide was sent to the Swedish Parliament (349 MPs), the government, the foreign ministry, as well as the offices of international organizations in Sweden at the initiative of the "For the sake of Azerbaijan" society on the eve of 22nd anniversary of Khojaly genocide, according to the State Committee for Work with the Diaspora.
On Feb.25-26, 1992 the Armenian occupation forces, together with the 366th infantry regiment of Soviet troops stationed in Khankendi committed an act of genocide against the population of the Azerbaijani town of Khojaly. Some 613 people were killed, including 63 children, 106 women and 70 old people. About 487 people among civilians became disabled as a result of bullet wounds. Eight families were totally exterminated, 130 children lost one parent and 25 children lost both. Some 1,275 innocent residents were taken hostage, while the fate of 150 remains unknown.
Khojaly genocide is compared with the tragedies in Khatyn, Lidice and Oradour, according to the document.
The international community must know the truth about Khojaly tragedy, give a legal assessment of the crimes committed against humanity. Khojaly tragedy is another fact of ethnic cleansing and the genocide policy pursued by Armenian nationalists and their patrons against the Azerbaijani people, according to the declaration.
The declaration calls on the Swedish government and the world community not to remain indifferent to this tragedy.
"Perpetrators of the Khojaly genocide must be punished," according to a declaration.

/Trend/