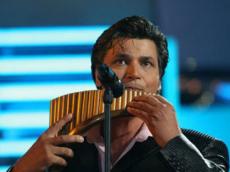 Moldovan People's Artist Constantin Moscovici has appealed to the Azerbaijani government to remove his name from the persona non-grata list after he had been blacklisted by the Ministry of
Foreign Affairs because of his visit to Azerbaijan`s occupied lands.
In his written appeal, Moscovici, who violated Azerbaijan`s law on state border, expresses regret over the fact that he visited the occupied Azerbaijani territories. He says he traveled to Azerbaijan`s occupied lands to attend a festival in 2009 and that he had no other intentions.
Moscovici says his civic position on Azerbaijan`s territorial integrity fully coincides with the official position of the Republic of Moldova.
The Moldovan artist undertook a commitment that he will never violate the laws of the Republic of Azerbaijan again.
The Ministry of Foreign Affairs will consider the appeal.

/AzerTAc/