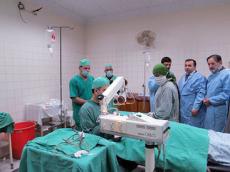 The waiting rooms for the Eye Hospital of Khyber Eye Foundation built with the support of Azerbaijan`s First Lady, President of the Heydar Aliyev Foundation Mehriban Aliyeva have been inaugurated in the Pakistani city of Peshawar.
The ceremony was attended by Chairman of the Board of the Khyber Eye Foundation Haji Mohammad Haleem Khan, Chairman of the Pakistani Senate Standing Committee for Broadcasting and Information, Vice-President of the Islamic Chamber of Commerce and Industry Haji Ghulam Ali, MPs of the province of Khyber Pakhtunkhwa, public figures and media representatives.
Azerbaijani Ambassador to Pakistan Dashgin Shikarov provided an insight into the successful projects implemented by President of the Heydar Aliyev Foundation Mehriban Aliyeva in Azerbaijan and foreign countries. He noted that humanitarian program implemented by the Heydar Aliyev Foundation in Khyber Pakhtunkhwa included vaccination against Hepatitis B, open-heart surgery, cerebral palsy medical examination in clinics, free blood transfusion along Afghanistan-Pakistan border, financial assistance for building the eye clinic. In addition, humanitarian projects were realized on the occasion of the Eid ul-Fitr and Eid ul-Adha in 2012-2013 in the regions of the province.
Speaking to the event, Haleem Khan expressed gratitude to the President of the Heydar Aliyev Foundation for the care and attention. He noted that the attention for the needy residents of the province is the evidence of Mehriban Aliyeva`s humanity and her commitment to the Islamic values and great affection between our peoples. According to him, the clinic provides free medical services to the poor people.
For his part, Ghulam Ali underlined the high-level Pakistan-Azerbaijan relationship. The senator noted that while in Azerbaijan he witnessed warm and fraternal attitude of Azerbaijanis to the people of Pakistan. According to him, the projects implemented with the support of President of the Heydar Aliyev Foundation Mehriban Aliyeva in Pakistan helped cement Pakistan-Azerbaijan relations.
The Ambassador donated medicines and provided financial assistance to the Eye Foundation.
/AzerTAc/
Photos by Trend