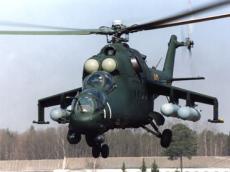 Russia has completed the delivery of Mi-35M helicopters ordered by Azerbaijan.
APA
reports that Russia has delivered 24 Mi-35M helicopters to Azerbaijan ordered in September, 2010.
Azerbaijan also purchased Mi-35M simulators to train pilot personnel.
The delivery of Mi-35M helicopters ordered by the State Border Service was started in December 2011.
MI-35 helicopters are the modernized version of MI-24 helicopters. These helicopters can be used for fire support in ground operations, as well as evacuation and transportation of landing force and military cargo on board. These helicopters differ from their predecessors Mi-24 helicopters for speed, maneuvering capabilities, large arsenal of weapons and other qualities.