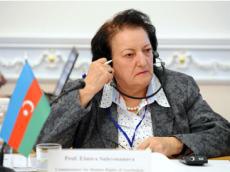 Azerbaijan`s Human Rights Commissioner Elmira Suleymanova has issued a statement on the 24th anniversary of January 20 tragedy.
The statement has been sent to UN Secretary General, UN Security Council, Office of the United Nations High Commissioner for Human Rights, European Commission, OSCE, the Council of Europe, Institute of International and European Ombudsmen, Asian Ombudsman Association, International Peace Bureau, Universal Peace Federation, human rights commissioners of various countries, Azerbaijani embassies in foreign countries, embassies of foreign countries in Azerbaijan and Azerbaijani Diaspora organizations.
The statement underlines that as a result of punishment carried out against civilians, crime committed against humanity on January 20, 1990, the UN Human Rights Declaration, as well as other international documents on human rights were violated.
"The January 20 tragedy is a horrible crime among the terrorist attacks that caused massive human losses. But this tragedy has not received international legal assessment. Those who ordered and committed this crime have not been punished. We believe that the world community, international organizations will support the right demands of Azerbaijan, the crime against humanity will soon receive its international legal assessment, the perpetrators will not remain unpunished."

/AzerTAc/