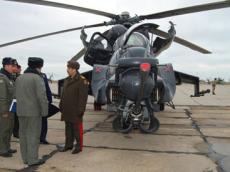 By AzerNews
Azerbaijani Defense Minister Zakir Hasanov continues his visits to the military units of the Air Force.
The minister examined the aviation landfill and queried the level of training of military aircraft firing systems for various applications on December 19, the Ministry said.
Hasanov met with flight and technical personnel, shared his thoughts on conduction of a high level of military training, and gave instructions on improvement of aviation landfill, creation of modern conditions and expanding the observation platform.
Deputy Head of the Presidential Administration of Azerbaijan, Lieutenant-General Vahid Aliyev also attended the visit.
Hasanov earlier visited the military unit of the Air Force in the Baku garrison and get acquainted with the condition of the unit and servicemen.