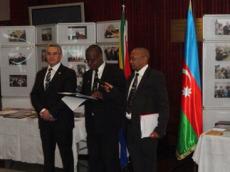 Azerbaijan`s Embassy in South Africa has organized an exhibition to celebrate the 90th anniversary of national leader Heydar Aliyev.
The Ambassadors, MPs, representatives of several organisations, journalists, businessmen, and public figures were present at the event.
Head of the National Library of South Africa John Kvale Tsebe noted this event would support further development of relations between the national libraries of the two countries.
Ambassador Elkhan Polukhov spoke of national leader Heydar Aliyev`s life and activities, his role in strengthening Azerbaijan`s independence, democracy, and building a legal secular state. Heydar Aliyev had irreplaceable services in establishing political stability in Azerbaijan, and promotion of the country`s increasing role on the international scene.
The South Africa Republic`s MP Mrs. Thandile Sunduza said she is confident that the exhibition will see a huge public interest.
The visitors of the library viewed photos reflecting national leader Heydar Aliyev`s life and activities. They got acquainted with materials published by the Heydar Aliyev Foundation about the great leader. The guests received brochures about the national leader.
The books demonstrated in the exhibition were donated to the library.
/AzrTAc/