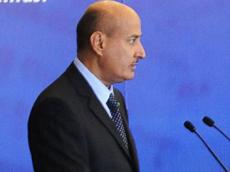 Baku International Humanitarian Forum will help to establish mechanisms to enhance international cooperation, the ISESCO Director General Dr. Abdulaziz Othman Altwaijri said at the Forum's opening ceremony.
"The Baku International Humanitarian Forum, like other world class initiatives of Azerbaijan, is a true testament to the country's efforts towards creating adequate mechanisms that expand international cooperation instead of disagreements and conflicts," he said.
During his speech, Dr. Dr. Abdulaziz Othman Altwaijri extended congratulations to President Ilham Aliyev on his reelection to a third term as the president of Azerbaijan, wishing him success to achieve further progress and prosperity of Azerbaijani people and the country.
He stressed that the leadership of Azerbaijan is committed to work at regional and international levels to promote peace in the world and uphold tolerance and dialogue as two core universal human values on which to build solid international relations.
The ISESCO head stressed that this forum is held at critical point of time in world history when conflicts and clashes are frozen in many parts of the globe.
"It is a serious obstacle to both international relations and human development," he noted.
In particular Altwaijri reminded that part of Azerbaijani territories is occupied by Armenia despite the UN Security Council resolution and the peaceful initiatives of Azerbaijan.
According to ISESCO head, promoting the values of tolerance and dialogue and mutual respect both at individual and community levels require an integrated approach and the combined efforts and expertise sharing from governmental, educational and institutional and expert research groups.
"We are confident the Third Baku International Humanitarian Forum, gathering such an elite class of leaders from all over the world, will keep up efforts to develop practical solutions to consolidate the core values of dialogue, tolerance and respect for human rights. This is the main goal of this forum," he said.
The third Baku International Humanitarian Forum started in Baku on Thursday.
The guests from over 100 world countries are participating in the forum.
Baku International Humanitarian Forum is an annual event comprising the outstanding representatives of political, scientific and cultural elite of the world community, including well-known statesmen, Nobel Prize winners in various branches of science and heads of influential international organizations.
/AzerTAg/