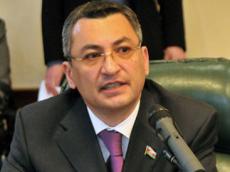 By AzerNews

Armenia should realize that if it does not take a constructive position and the Nagorno-Karabakh issue is not resolved peacefully, Azerbaijan is ready to return all of its native lands, an Azerbaijani lawmaker said on October 21.
Rovshan Rzayev, a board member of the Azerbaijani Community of the Nagorno-Karabakh Region of the Azerbaijan Republic public union, made the remarks while commenting on the words of Azerbaijani President Ilham Aliyev regarding the strategic goal of regaining all the historical Azerbaijani territories, which were stated during his inauguration ceremony.
Rzayev said Azerbaijan has the entrire potential to resolve this issue in the nearest future.
"Zangazur and Goycha are historical Azerbaijani lands, and the opposite side should understand that Azerbaijan will ensure its territorial integrity in any case," he said.
President Aliyev's solemn inauguration ceremony was held in the Azerbaijani parliament on October 19. The president said in his speech that Azerbaijan, as always, supports resolution of the conflict by peaceful means, while emphasizing the need to use all the possibilities to ensure the country's territorial integrity.
Rzayev said Azerbaijan should focus its activity regarding this issue on the offensive tactics as justice is on its side from both the legal and historical points of view.
"Azerbaijan's military budget considerably exceeds the total budget of Armenia. It is also necessary to note the success of the Azerbaijani Ministry of Defense Industry over the past ten years. All this shows the readiness of Azerbaijan for a lengthy struggle," Rzayev said.
For over two decades, Azerbaijan and Armenia have been locked in conflict which emerged over Armenia's territorial claims against its South Caucasus neighbor. Since a war in the early 1990s, Armenian armed forces have occupied 20 percent of Azerbaijan's territory, including Nagorno-Karabakh and seven surrounding regions. A fragile ceasefire has been in place since 1994, but long-standing efforts by US, Russian and French mediators have been largely fruitless so far. Armenia has not yet implemented the U.N. Security Council's four resolutions on its pullout from the neighboring country's territories.