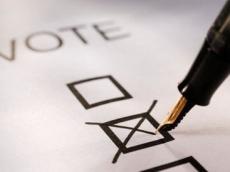 Some 12,000 voters will vote in 38 polling stations created under the Azerbaijani embassies abroad in the upcoming Azerbaijani presidential elections, Azerbaijani Foreign Ministry spokesman Elman Abdullayev told Trend on Monday.
He said that according to the Article # 35.6 of Azerbaijani Election Code, polling stations were created under 38 diplomatic missions of Azerbaijan abroad where the number of voters exceeds 50 people.
The polling stations created under the embassies were attached to 15, 16, 17 District Election Commissions (DEC) of Baku's Yasamal district, he said.
According to the Foreign Ministry spokesman, the bullets, protocols and other materials have already been delivered to the polling stations abroad. Azerbaijani Foreign Ministry (the Consular Department) keeps the issue of elections under great attention and provided the embassies with relevant instructions for conducting of elections.
Members of diplomatic missions accredited abroad were mobilized for the implementation of the voting rights of fellow citizens in Azerbaijani presidential elections, he stressed.
The largest number of Azerbaijani voter temporarily living abroad fell to CIS countries, Abdullayev stressed.
Azerbaijani citizens who have higher education, who have been permanently residing in the country for more than 10 years, who have not been convicted on a serious crime, not having any obligations to other states and those who do not have double citizenship are entitled to the right to be elected to the post of president of Azerbaijan.
Presidential elections in Azerbaijan will be held on October 9.
Previous presidential elections were held on October 15, 2008.


/Trend/