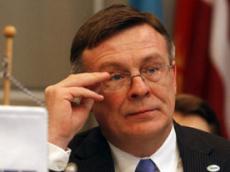 By AzerNews
Protracted conflicts in the OSCE region remain one of the main sources of tension and a threat to security and stability in the OSCE area, OSCE Chairperson-in-Office, Ukrainian Foreign Minister Leonid Kozhara said, the OSCE website reported on September 21.
On the occasion of the International Day of Peace, Kozhara emphasized the important role of education in the peaceful settlement of protracted conflicts in the OSCE area.
September 21 is the International Day of Peace, which is dedicated to achieving peace and preventing war and violence.
"Given that education for the sake of peace is the theme of the International Day of Peace this year, I would like to stress the vital role of education in defusing and preventing tensions, creating confidence and non-violent resolution of conflicts," Kozhara said.
According to Kozhara, the International Peace Day also offers a unique opportunity for a cessation of violence and hostilities throughout the world.
Kozhara stated earlier that Ukraine will be exceptionally active until the end of this year and will be involved in the resolution of the so-called 'frozen conflicts', such as the Nagorno-Karabakh conflict between Armenia and Azerbaijan.
He said the work of the OSCE Minsk Group -- which is brokering a settlement to the Nagorno-Karabakh conflict -- could be more active.
The Nagorno-Karabakh conflict emerged in 1988 when Armenia made territorial claims against Azerbaijan. Since a lengthy war in the early 1990s that displaced over one million Azerbaijanis, Armenian armed forces have occupied over 20 percent of Azerbaijan's internationally recognized territory, including Nagorno-Karabakh and seven adjacent regions.
Peace talks, mediated by Russia, France and the U.S. through the OSCE Minsk Group, are underway on the basis of a peace outline proposed by the Minsk Group co-chairs and dubbed the Madrid Principles. The negotiations have been largely fruitless so far.