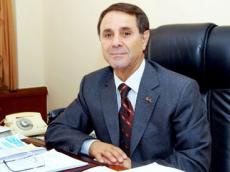 The crisis of international law dominates in the world today, the Deputy Head of the Administration of the President of Azerbaijan, Head of the Foreign Relations Department Novruz Mammadov said during his speech on Monday. He was addressing the second forum 'South Caucasus in a changing world', organized by the Association of Scientists for International Relations of the Center of Strategic Studies under Azerbaijani President.
Today it is impossible to speak about the success in the settlement of the Nagorno-Karabakh conflict, Mammadov said.
"If we look at the processes taking place in the world, then we can see that the global economic crisis has been the most important issue discussed by the world community over the past five or six years. However, another crisis - the crisis of the international law dominates in the world today. Exactly this crisis leads to the emergence of other crises," he said.
Mammadov underscored that the justice principles of the international law are being violated.
"Unfortunately, the international community does not demonstrate a fair position on the Nagorno-Karabakh conflict and Azerbaijan has been standing face to face with the fact of occupation of its lands for over 20 years," Mammadov said.
Despite Azerbaijan's high level cooperation with such structures as EU, OSCE and NATO, today these organizations do not want to see resolutions on Nagorno-Karabakh conflict, which were signed five years ago, they do not fulfil the requirements arising from this documents, which is the indicator of the crisis of the international law, Novruzov added.
"With society's development, the countries must develop in a more civilized manner, the regulation of relations between them should be at a higher level, but, unfortunately, today this is something we don't see," Mammadov added.
The conflict between the two South Caucasus countries began in 1988 when Armenia made territorial claims against Azerbaijan. Armenian armed forces have occupied 20 per cent of Azerbaijan since 1992, including the Nagorno-Karabakh region and seven surrounding districts.
Azerbaijan and Armenia signed a ceasefire agreement in 1994. The co-chairs of the OSCE Minsk Group, Russia, France and the U.S. are currently holding peace negotiations.
Armenia has not yet implemented the U.N. Security Council's four resolutions on the liberation of the Nagorno-Karabakh and the surrounding regions.

/Trend/