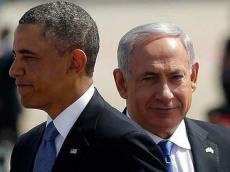 U.S. President Barack Obama urged Israeli Prime Minister Benjamin Netanyahu to take steps to end the diplomatic crisis between Israel and Turkey during their meeting, Haaretz daily reported March 21. Obama, who is currently making his first visit to Israel and the West Bank, touched on the issue of the strained relations between the two countries, a senior White House official who requested anonymity told the Israeli paper.
According to Haaretz, the official said the president "urged the Israeli government to work toward normalization of ties between the two countries," making it clear that the U.S. valued strong friendships with both Israel and Turkey.
Diplomatic relations between the two had been downgraded after nine Turkish nationals were killed on board the Mavi Marmara ship, which was part of an aid flotilla attempting to break the naval blockade of Gaza.
/HurriyetDailynews/