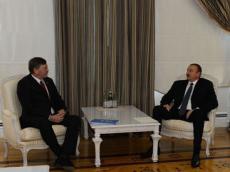 President of Azerbaijan Ilham Aliyev has today accepted credentials of incoming UN Resident Coordinator Antonius Bernardus Broek.
Praising Azerbaijan`s wide activities in the UN`s Security Council under President Ilham Aliyev, Antonius Bernardus Broek expressed his gratitude to the Head of State for successful cooperation with the organization.
President Ilham Aliyev stressed the cooperation between Azerbaijan and the United Nations was successfully continuing. He added the country`s election as a member of the UN Security Council contributed to expanding the bilateral cooperation.
The Head of State said Azerbaijan was contributing to the international security and cooperation. President Ilham Aliyev expressed confidence Antonius Bernardus Broek`s tenure would see the Azerbaijan-UN relations develop even further.
/
AzerTAc
/
 15:22