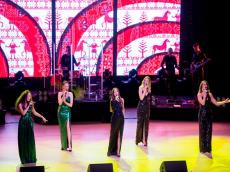 By Azernews
By Laman Ismayilova
Mikhail Turetsky`s Soprano Art Group performed at the Heydar Aliyev Center on November 30.
Soprano is a unique female art group, which was organized by Russian showman, conductor and producer, People's Artist of Russia, Mikhail Turetsky, Trend Life reported.
The art group combines all existing female singing voices from the highest (soprano) to the lowest (mezzo). Each soloist has her own singing style: from academic to folk and pop-jazz.
All concerts are performed only live, with the artists singing in different languages (Russian, English, Italian, French, Chinese, etc.).
The artists not only sing but also play different musical instruments (violin, saxophone, keyboards).The group sings a cappella and with instrumental accompaniment (piano, guitar, drums).
The art group for the first time performed in Baku, presenting the audience a colorful program.
Professional light and sound, bright show and video installations, our favorite songs - and all this stunned the audience.
The singers presented a whole palette of bright colors, all the diversity and richness of voices existing in nature - from coloratura soprano to mezzo.
Their beautiful voices immediately captured the attention of listeners. They left no one indifferent. 
Soprano Art Group was a musical ambassador at the largest international sport events, where they had the important representative mission to sing the official anthem of Russia. For instance, performance on Formula 1 Grand Prix Russian Sochi Race, the international football matches, an annual international ice hockey tournament "The Cup of Channel One", etc.
The art group has repeatedly presented Russia on musical projects of international importance, such as the world's largest TV show of Spring Festival Global Gala 2016 in Beijing. The TV audience of the Festival reached 1 billion.
Soprano goes on annual concert tours in Russia and abroad (U.S., Canada, Switzerland, Israel, China etc.), performs in prestigious concert halls.
Notably, the Turetsky Men's Choir performed on the stage of the Heydar Aliyev Center on October 10. 
Russian choir presented various hits of world classics and popular songs from the most famous compositions.
The concert aroused great interest of audience.