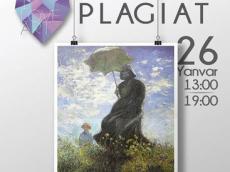 By AzerNews
The Centre of Modern Art in Baku will host an art exhibition titled "PLAGIAT" on January 26.
The exhibition, which is fundamentally different from the kind of activities organized in Baku to this day, has been organized within the "I love Art" project.
The event will bring together young Azerbaijani artists, who are completely unknown yet.
All the paintings, which will be presented in the gallery, are parody of an any masterpiece of world art. That is, each artist participating in this event, selects one or more world famous paintings, and drawing the same painting, he brings in it something different. It can be as adding some ironic details, so a complete change of a character or an object in the original painting, but at the same time preserving the most of the atmosphere and recognizability of the composition.
This exhibition is the fourth project organized by the "I love Art" project, a huge web community that unites art lovers not only in Azerbaijan, but also worldwide.
Web page of the project shares dozens of works by contemporary artists, sculptors, illustrators, and world famous art work of the past centuries each day. Along with well-known paintings, the web page represents drawings of self-taught amateurs from around the world, who want to share their creativity with the worldwide audience.
Any talented person, regardless of type of its activity, sex, age and social status can participate in the exhibition, which opens the little door of the huge and bright world of creativity to the people.