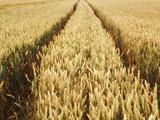 The government of Kazakhstan decided to impose a ban on grain export, with no restrictions of flour export to Azerbaijan until September 1 of 2008, Kazakhstani mass media reports.
In this connection, Day.Az contacted Mamed HUseynov, deputy chief of department for regulation of the state food reserves and food security of the Ministry of Agriculture of Azerbaijan, who said that the embargo will not influence prices on grain in Azerbaijan, as we have sufficient grain reserves.
"This year Azerbaijan purchased 250,000 tons of grain and last year 950,000 tons", said Huseynov.
It should be noted that the ban was caused by the need to ensure the food safety of Kazakhstan in conditions of the rise in prices on the world market and deficit of grain in the world.
/Day.Az/