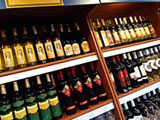 Ceremony of presenting gold and silver medals and diplomas to producers of Azerbaijani wines, who won the 11th International Degustation Contest of wines and alcohol drinks held in Russian State scientific enterprise of brewing, alcohol-free and wine industries, took place in Azerbaijan's Ministry of Agriculture on February 5.
Azerbaijan's Deputy Minister of Agriculture Aslan Aslanov noted that the area of vineyards has been expanded up to 8,700 hectares and quality of produced wines has improved. Notably, this production, which meets world standards, also get high grades at various international contests.  
Aslanov noted that Azerbaijan was represented by red semisweet wine "Odlar yurdu" and cognac "Maestro", produced by Baki-Sharab-1, cognac "Nizami" produced by Azeri-France and Tovuz-Baltiya's quince wine. By unanimous decision of the jurors, "Odlar Yurdu" received gold medal, "Nizami" cognac silver medal and Tovuz-Baltia's quince wine a diploma.
The leaders of the aforementioned enterprises received awards,  diplomas of the contest and awards of the Ministry.
Aslan Aslanov expressed confidence that Azerbaijani wines will worthily represent our country on international contests in the future", AzerTAc reports.