By late June, Azerbaijan's Transport Ministry will complete the paperwork of the expected competition for installation of Baku Intelligent Traffic Control System.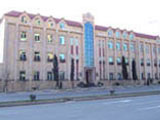 The Ministry officer Sadraddin Mammadov told that agreement was reached with South Korea to implement the project, APA reports.
Azerbaija's Transport Ministry and South Korea's Construction and Transportation Ministry signed a memorandum of understanding within the scope of Azeri President Ilham Aliyev's visit to this country.
The system will enable to manage traffic in Baku and Absheron by sending data through special radio and television frequencies.
The system will also coordinate the relevant bodies of Azerbaijan.
An Intelligent Traffic System involves a much closer interaction between all of its components: drivers, pedestrians, public transportation and traffic management systems. Adaptive signal systems, driver advisory and route planning and automated vehicles are some of the goals set up to increase the efficiency of actual systems.
A self-adaptive system would be able to respond quickly to the changes in the road conditions, modifying signal policies and rerouting drivers to prevent congestions.