Karasu Operating Company (KAOC), dealing with exploration and development of the Mishovdag and Kelameddin onshore oilfields in Azerbaijan, produced 4,648,000 cu m of gas during 2006, 23.9% down from the previous year.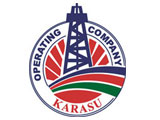 Company's head office told the APA that the gas output reached 400,000 cubic meters in December, 2006.
KAOC was established by SOCAR (15%) and Nations Energy Corp (85%).