Since Jan. 23 the oil prices came to raise hopes.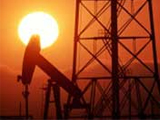 Light, sweet crude for March delivery on the New York Mercantile Exchange spiked by US$2.48 to settle at US$55.04 in New York It was the largest one-day jump since Sept. 19, 2005. March Brent crude on London's ICE Futures exchange settled at $55.10, up $2.40 a barrel.
Colder weather has recently moved into the area, boosting demand for heating oil.
The US federal government has announced plans to boost the country's emergency crude stockpile to 1.5 billion barrels.
This announcement has caused oil prices to settle above US$55 a barrel on Tuesday, a rally that is expected to last only until today's inventory report from the Department of Energy. APA