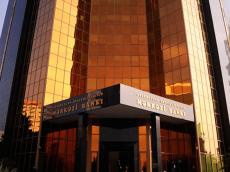 Trend:
The Baku Stock Exchange (BSE) held an auction for placement of short-term notes of Azerbaijan's Central Bank (CBA) worth 300 million manats with a maturity period of 28 days, the BSE said in a message April 25.
Demand at the auction amounted to 681.87 million manat, while average price per note - 99.3812 manat.
The deadline for payments on the notes is May 23, 2018.
The CBA started to hold deposit auctions in mid-June 2016. Deposit auction is an auction during which the deposits of commercial banks are placed in the CBA. The main aim of such auction is sterilization of money supply.
($1 = 1.7 AZN on April 25)