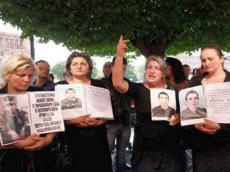 By AzerNews

The mothers of died soldiers in non-combat conditions in Armenia are still seeking justice. To this end, they have been demanding a meeting with Armenia's supreme commander since April 2014.
In 2013, 16 Armenian servicemen lost their lives due to top commanders' negligence. Eight of them died as a result of suicide, four due to illness, three as a result of murder, and one service man died due to violation of rules for handling weapons, the ombudsman's report show.
Prime Minister Ovik Abramyan recently received five mothers of died soldiers. The mothers urged Abramyan to ensure a fair investigation into the deaths of their sons and punish those responsible for the deaths as soon as possible.
Mother of died soldier Goar Sargsyan told local media that she met with former Prime Minister Tigran Sargsyan in 2009. "That time I thought there would be a fair investigation into the case and the perpetrators would be punished, but nothing has been done so far. It is now 2014, and we are in the same place," she said.
She added that during their meeting with Abramyan, they underscored the authorities' failure to ensure the fair investigation.
At the meeting, Abramyan promised to make arrangements for a meeting with the president.
The government has temporarily calmed down the mothers of died soldiers in peacetime. The mothers in turn have promised to continue protests until they get appropriate answers to their demands.