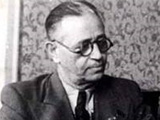 At the initiative of Tengiz Sade baron zu Romkerhall, President of the Central Council of Azerbaijani Diaspora in Germany, an event dedicated to Azerbaijan`s great composer Uzeyir Hajibeyli was held in Hannover on Saturday.
Romkerhall said Uzeyir Hajibeyli, who is one of the prominent figures of Azerbaijan, made his people known to the entire world due to his musical woks. Founder of Azerbaijani opera Uzeyir Hajibeyli dedicated his life to development of Azerbaijan`s musical culture and enlightenment of the people. The great composer also acted as a writer, publicist and journalist and played significant role in enlightenment of the Azerbaijani people.
Honorable doctor of Azerbaijan Technical University Rolf Nolte praised Hajibeyli`s activity in terms of developing Azerbaijan`s music and culture. In 1908, Hajibeyov wrote his first opera Leyli and Majnun. The opera based on the tragic love story by the 15th century poet Fuzuli.
This would be the first of 7 operas and 3 musical comedies that Hajibeyov composed throughout his life. In Leyli and Majnun, the uniqueness of the traditional music of mugham was incorporated into a Western genre with the use of instruments indigenous to both traditions.
Finally, Romkerhall touched Nagorno-Karabakh conflict between Armenia and Azerbaijan, expressing his wish concerning peaceful resolution of the problem, liberation of Azerbaijan`s lands from occupation and returning of one million Azerbaijani refugees to their homelands.
/AzerTAc/