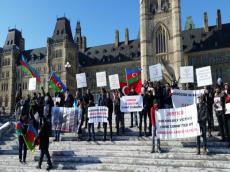 Azerbaijanis living in Canada have staged a protest rally outside the Canadian parliament building in Ottawa to mark the 23rd anniversary of the Khojaly Genocide.

The rally organized by Azerbaijani students who receive education at the universities of Waterloo and Toronto, also involved Turkish students, AzerTag state news agency reported.

The protesters, who held Azerbaijani and Turkish flags, urged international recognition for the Khojaly Genocide.
They distributed brochures and magazines about the Khojaly Genocide among local residents and guests of the Canadian capital.
In 1992, the town of Khojaly came under intense fire from the towns of Khankendi and Askeran already occupied by the Armenian armed forces. 613 civilians mostly women and children were killed in the massacre, and a total of 1,000 people were disabled. Eight families were exterminated, 25 children lost both parents, and 130 children lost one parent.
Moreover, 1,275 innocent people were taken hostage, the fate of 150 of them remains unknown. Many civilians were shot at close range, scalped or burned alive.