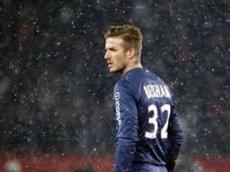 He walked down the red carpet and left to a standing ovation -- it seems David Beckham continues to write his own script.
After his cameo performance for Paris Saint-Germain last Sunday, Beckham played 86 minutes of his side's 2-0 win over Marseille in the French Cup Wednesday.
The 37-year-old, who signed a five month deal with the club in January, showed he still has the fitness to compete at the top level with an impressive performance.



/CNN/