The Azerbaijani Communications and IT Ministry signed a contract with Orbital Sciences Corporation in connection with the production of the national telecommunications satellite Azerspace today.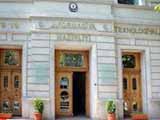 Cost of the satellite will hit 163 million manat. Construction of the satellite will cost 87 million manat. The satellite control center will cost 16 million manat but the rest 18 million manat will be spent on full insurance of new satellite.
The term of the satellite will be 15 years, the payback period - about 5 years. To date, the ministry signed a long-term contract on leasing an orbital position for Azerbaijani satellite Azerspace with the Malaysian satellite operator MEASAT. Malaysia's orbital position will be used for the needs of the national satellite, unless Azerbaijan carried out work on the full coordination of frequency assignments and its own satellite orbital position with other countries.
The ITU placed the Azerspace national satellite on 43.2, 58.5 and 96 degrees east. The satellite will be equipped with three beams directed at Europe, Asia and Africa, which will allow the country to act as a transit country in broadcast channels.
One of the priority issues facing the ministry is the realization of satellite resources. The Ministry intends to withdraw 80 percent of Azerspace resources to the international market, and the remaining 20% use on intra-republican level. Malaysia expressed willingness to acquire 40% of satellite resources. Launch of first satellite is scheduled for June 2012.
The launch of its own satellite on orbit will be Azerbaijan's first action in realizing prospective projects to turn itself into a country with a space industry. Existence of a national satellite will enable Azerbaijan to establish high-quality and reliable communications, television, as well as increase the number of channels. The satellite will be equipped with three rays directed at Europe, Asia and Africa, which will allow the country to act as a transit country in the broadcast channels.
Initially, the satellite launch was supposed to be implemented based on the American Falcon rocket carrier, but as the U.S. project delays, the ministry is also negotiating with Ukroboronservis on launching satellite with Zenit rocket carrier.
/
Trend
/