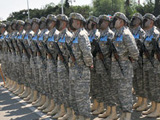 Azerbaijan`s embassy to Iran has marked the country`s Armed Forces Day. The event brought together representatives of the diplomatic corps and international organizations, military attachés of foreign countries, as well as Iranian servicemen.
Addressing the ceremony, Azerbaijan's military attaché in Iran, colonel Mehman Suleymanov highlighted features of army building in the country. He said the Azerbaijani army had been brought in line with international standards. He praised national leader Heydar Aliyev`s role in strengthening the army, saying "this policy is being successfully continued by President Ilham Aliyev".
Touching upon the Armenia-Azerbaijan conflict over Nagorno-Karabakh, Suleymanov said "the Azerbaijani army, led by Supreme Chief Commander Ilham Aliyev, is ready and able to restore the country`s territorial integrity".
/AzerTAc/