The Turkish and Turkish Cypriot natural resources ministers met in Ankara on Tuesday.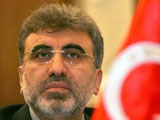 Turkey's Energy & Natural Resources Minister Taner Yildiz and Agriculture & Natural Resources Minister Nazim Cavusoglu of the Turkish Republic of Northern Cyprus (TRNC) had a meeting in Ankara.
"Turkey can transfer its experiences on mining and engineering to TRNC, and is ready to extend all assistance it can," Yildiz told reporters after the meeting.
Yildiz said Turkey and TRNC could cooperate on energy transfer with cables, coal power plants and renewable energy resources.
Also, Cavusoglu said TRNC wanted to make use of Yildiz's experiences on geology and mining projects.
Cavusoglu said TRNC was attaching strategic importance to bringing water to the island, and was planning to fulfil the project within three years.
/World Bulletin/