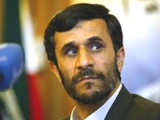 Despite the oppression of U.S. officials with the Iranian people, no one should think that the Iranian government hates the U.S people, Iranian President Mahmoud Ahmadinejad said at the meeting with Iran's ambassadors in other countries.  
"Equality among the people is the basic principle of Iran's foreign policy," he said. "The foreign policy should pay special attention to issues such as loyalty, fairness and respect for all people."
According to Ahmadinejad, Iran should not go beyond justice to its enemies in its activities.
/Trend News/