Georgian Prime Minister Nika Gilauri headed for Egypt with an official visit on Jan. 19.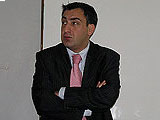 In the course of the visit he is to hold meetings with Muhammad Hosni Mubarak, President of Egypt, and Ahmed Nazif, prime Minister.
Gilauri will also hold negotiations with Fayza Aboel Naga, Minister of International Cooperation, and Ahmed Aboul Gheit, Foreign Minister of Egypt.
Georgian-Egyptian business forum will also be held in the course of Gilauri's visit.
/Georgia Times/