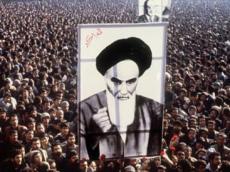 Every year Iranians mark anniversary of their Islamic revolution from February 1 to 11, as the "Decade of Fajr", Iranian IRNA news agency reported.
This year marks the 35-th anniversary of the event. The festivities will culminate on February 11, the date when revolutionary forces, led by Khomeini, defeated pro-government troops in armed street clashes.
February 1, 1979 was the date when late Iranian leader Ayatollah Ruhollah Khomeini returned from exile in Paris to Tehran, to a greeting by several million Iranians.
Due to celebrations, a symbolic program has been prepared in the Imam Khomeini airport, in which about 570 journalists participate.
Alternatively, the celebrations and marking of the historic event are held in schools around the country.
Thousands of Iranians brought flowers to the mausoleum of the republic's founder. Early in the morning, the Supreme Leader of Iran, Ayatollah Ali Khamenei visited the mausoleum as well, and put flowers there.

/Trend/