"The state-allocated funds would only do for printing placards", said chairman of Great Creation Party, presidential candidate Fazil Qazanfaroghlu.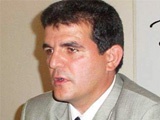 He said considering existing inflation, the state has allocated minimum funds for holding agitation campaign.
"By our estimates it is planning to spend about AZN 30,000-35,000 for the election campaign", said he.
The presidential candidate also announced that the party is holding an agitation campaign.
"We have not faced any problems yet. We are holding successful meetings with voters. The dates of holding large events have been defined. In particular, an action will be held at the palace of Narimanov in Sumgayit on September 27, at Fizuli square in Ganja on September 28, in Baku on October 5 and in Lenkoran on October 12", said he.
It should be noted that the state has allocated AZN 12,000 for each candidate.
/Day.Az/