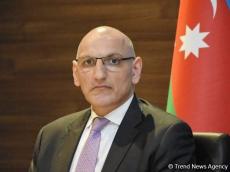 Within the framework of the visit of the assistant to the First Vice-President of Azerbaijan Elchin Amirbayov to the Netherlands, meetings were held with deputies of political parties in this country, Ambassador of Azerbaijan to the Netherlands Rahman Mustafayev wrote on his Twitter page.
The ambassador thanked the deputies for a constructive exchange of views with Assistant to the First VP of Azerbaijan Elchin Amirbayov on a broad range of issues regarding cooperation between Azerbaijan and the Netherlands, as well as regional issues.
Meetings were held with representatives of the ruling People's Party for Freedom and Democracy, which is part of the coalition of the Democrats 66 Party, as well as the Volt, DENK, In the name of the interests of the Netherlands, and with a senator from the "Ja21" party.