The issue of definition of the Caspian status should not put a shadow on bilateral relationships between Azerbaijan and Iran, Afshar Suleymani, the Iranian Ambassador to Azerbaijan, said. He was commenting on the position of the new authorities of Iran.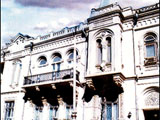 According to Suleymani, the current authorities of Iran also adheres this standpoint. Iran has officially stated on its intention of maintaining this position in any circumstances.
Bilateral and pentalateral consultations on definition of the Caspian status will continue in the friendly atmosphere, while the exiting progress will be promoted, the diplomat underlined.