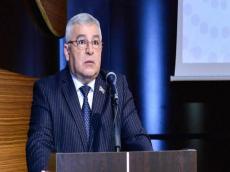 Trend:
The report of the OSCE Office for Democratic Institutions and Human Rights (ODIHR) on the presidential election in Azerbaijan caused a sharp protest of not only the public and reporters, but also internally displaced persons (IDPs) who cannot return to their native lands for over 30 years, Azerbaijani MP from Khojaly district Elman Mammadov told Trend.
He made the remarks commenting on the preliminary conclusions of the OSCE/ODIHR presented at a press conference on April 12. The mission, which voiced opinions not reflecting the reality observed at the election, announced that the final report will be made public within two months.
So far, according to Mammadov, over one million Azerbaijanis are still IDPs due to the incompetent activities of the OSCE.
"Our compatriots have turned into IDPs because of such hypocritical international structures as the OSCE. We are outraged that these persons discredit the presidential election in Azerbaijan. The Azerbaijani lands are still under occupation because of their unfair activity carried out together with Armenians. This is why we live not in our native land," the MP said.
Mammadov further said that the OSCE/ODIHR is an organization financed by Armenians and dancing to the tune of Armenians.
"Representatives of the OSCE do not have the right to come to Azerbaijan and observe the electoral process. How did the OSCE, as an international structure, prove itself to Azerbaijan in the Nagorno-Karabakh issue? I can answer - as a hypocritical structure pursing double-standards policy," Mammadov said.
Distributing the biased report on April 12, the OSCE/ODIHR acted against all voters, against the will of the Azerbaijani people and showed disrespect to the entire Azerbaijani people, he said.
"Neither the OSCE/ODIHR nor the Council of Europe are holding elections in Azerbaijan. They don't have the last say. The people is a source of the power in Azerbaijan, and the Azerbaijani people have the last say on this issue. The Azerbaijani people demonstrated its will on April 11 by voting for development, progress and its future. All international organizations that monitored the presidential election in Azerbaijan confirmed the transparent and fair electoral process," he said.
However, according to Mammadov, ODIHR representatives come to Azerbaijan with pre-prepared protocols.
"They acted the way their owners dictated. Therefore, their opinion is just a piece of paper for the Azerbaijani people," the MP said.