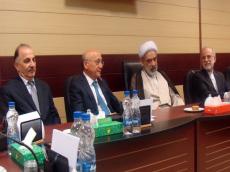 Deputy chief of foreign relations at the Secretariat of the Supreme Leader of Iran`s Islamic Revolution Mohsen Qomi has expressed his country`s readiness to support Azerbaijan.
"We are ready to support Azerbaijan at any time," he told chairman of Azerbaijan`s State Committee for Work with Religious Organizations Mubariz Gurbanli who is visiting Tehran.
Mr Qomi described Azerbaijan as "a friendly and fraternal" country for Iran. He said Iran`s Supreme Leader attaches great importance to expanding relationship with Muslim countries, including Azerbaijan.
He highlighted the situation with human rights in Iran. "The Islamic revolution was a turning point in the protection of human rights in Iran. Special attention is paid to women`s rights. Women now make 63% of those who study at higher educational institutions in the country, and 30% of public servants."
Mr Gurbanli highlighted the Azerbaijani government's attention to religion. "There are now 2,000 mosques in the country, The Heydar Aliyev Mosque, which is the largest mosque in the South Caucasus, has recently been inaugurated in Baku ordered by President Ilham Aliyev. It has a capacity of 4,000 people."
He hailed relations between Azerbaijan and Iran, saying the two countries "are bound together by ties of culture and religion". "Iran has always taken this fact into account and the Supreme Leader of the Iranian Islamic Revolution Ayatullah Seyyid Ali Khamenei has always had good attitude towards Azerbaijan."
Mr Gurbanli also highlighted the Nagorno-Karabakh conflict, saying "20% of Azerbaijan`s lands has been under Armenian occupation". "Unfortunately the Armenians destroyed all religious monuments and mosques there. They use mosques that are located in the occupied Azerbaijan lands for farming. And it is a manifestation of disrespect for not only Azerbaijan, but also the entire Islamic world," he added.