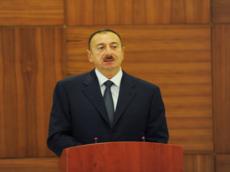 By Sara Rajabova
Azerbaijani President Ilham Aliyev and his spouse, First Lady Mehriban Aliyeva are taking part in the opening session of the 48th annual meeting of the Board of Governors of the Asian Development Bank in Baku on May 4.
President Aliyev made a speech at the event, Trend reports.
"Majority of our guests visits us for the first time, and I think it is a good opportunity to know Azerbaijan better, because as an independent country, it exists only more than 23 years on the world map," the president said.
President also added that Azerbaijan is famous for its ancient history, culture, traditions. "I am sure the guests will find time to visit our historic places, to learn more about our people, our past and present of our country. Azerbaijan's geographic location definitely influenced the development of our nation," he said.
President Aliyev noted that Azerbaijan, for centuries, had multicultural society and is proud of its multicultural history.
"We are strongly committed to the development of Azerbaijan as a modern, tolerant country, where representatives of all nationalities and religions live in peace and dignity," he said.
The money allocated from the ADB to Azerbaijan will serve the benefits of people, as well as economic and sustainable development of the country, the president stressed.
The 48th Annual Meeting of the Board of Governors of the ADB kicked off on May 2.
About 3,000 participants, including senior officials, business leaders, investors, financiers, journalists, and civil society representatives from around the world gathered in Baku for the event.
The overall theme for this year's meeting is "Fostering Partnership for Development." Through the business sessions on 4 and 5 May, governors and ADB management will discuss ongoing and emerging challenges facing the region, and also highlight how our ongoing reforms will make ADB a stronger development partner.