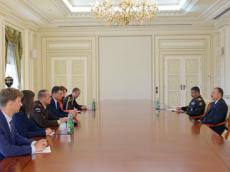 President of the Republic of Azerbaijan Ilham Aliyev has received a delegation led by Minister of Defence of Latvia Raimonds Vejonis.
The head of state said relations between Azerbaijan and Latvia were successfully developing, and stressed the importance of reciprocal visits in terms of the strengthening of these ties.
President Ilham Aliyev said the visit created a good opportunity for discussing relations between the two countries in various fields, particularly in the military sphere and within Azerbaijan-NATO cooperation.
Latvian Minister of Defence Raimonds Vejonis emphasized the significance of sustainable development of the relations between the two countries. The Minister said Azerbaijan was an important partner for Latvia in various fields, especially in the economic area. He expressed his country`s interest in expanding the cooperation with Azerbaijan.