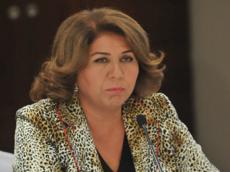 While using the power and through external trustees, Armenia wants to further strengthen its position in the occupied territories of Azerbaijan, as well as exerts efforts to recognize the illegal separatist regime. Thus, it violates ceasefire to divert attention from these issues, deputy speaker of the Azerbaijani Parliament Bahar Muradova told Trend on August 1.
He was commenting on frequent violations of the ceasefire by the Armenian side.
"Armenia is trying to accuse Azerbaijan of its own provocations," she added.
"Armenia's actions are illogical, as from the point of view of normal logic, occupation of a neighboring country's lands is beyond any limits," Muradova added. "An attempt to present the occupation of lands as legitimate actions has no basis in international law."
"Armenia is trying to create the second Armenian state on Azerbaijani lands," Muradova said.
"The world processes, conflicts observed in many regions of the world further stimulate Armenia," she said.
"Seeing that such actions remain unpunished in the world and the world's attention is directed in the opposite direction, Armenia is expanding its activity to strengthen its positions in the region and to present the occupation of lands as legitimate actions," she added. "However, Azerbaijan continues revealing Armenia's actions, which are contrary to the principles of international law."
Muradova added that Azerbaijan has chosen the right direction in the implementation of global projects. It deprives Armenia of opportunities for economic cooperation and does not allow using the opportunities of the regional countries and Azerbaijan.
"Justice is on the Azerbaijani side," she said. "It is clear that Azerbaijan's activity has logical and legal basis."
Armenian armed forces launched a diversion on the night of July 31-August 1, when reconnaissance and sabotage groups tried to cross the contact line of the Azerbaijani and Armenian troops through the territories of Aghdam and Terter regions.
According to the Azerbaijani defense ministry, the effort was revealed and prevented in time, by Azerbaijani armed forces.
An intense firefight resulted in losses from both sides, as Armenian reconnaissance and sabotage groups were forced to retreat.
The conflict between the two South Caucasus countries began in 1988 when Armenia made territorial claims against Azerbaijan.
As a result of the ensuing war, in 1992 Armenian armed forces occupied 20 percent of Azerbaijan, including the Nagorno-Karabakh region and seven surrounding districts.
The two countries signed a ceasefire agreement in 1994. The co-chairs of the OSCE Minsk Group, Russia, France and the U.S. are currently holding peace negotiations.
Armenia has not yet implemented four U.N. Security Council resolutions on the liberation of the Nagorno-Karabakh and the surrounding regions.

/Trend/