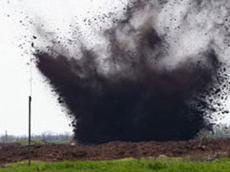 A landmine explosion occurred in Kalbajar region occupied by the Armenian Army.
Car "Willys" owned by Armenia's Armavir city Mayor has today hit a landmine in the north of Kalbajar region,
APA
reports
According to the preliminary data, the driver died as a result of the explosion. Injured Armavir city Mayor Ruben Khlghhatyan and other two persons were taken to Irevan by helicopter.
Armenian Defense Minister Seyran Ohanyan said at last week's meeting of the Armenian government that mine activities are underway on all roads in Kalbajar to prevent actions of Azerbaijani "saboteurs".