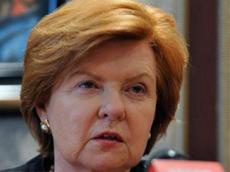 I would like to learn the Azerbaijani language, if the life was a little longer, Latvia's ex-president Vaira Vike-Freiberga said.
Vaira Vike-Freiberga, who is also the co-chair of the Nizami Ganjavi International Center and the president of the Club of Madrid, made the remarks in an interview with Trend and the Azerbaijani State Committee on Work with Diaspora.
"In an airplane, I always read a book - fairy tales, detective stories, fictional works of Latvian and other nations. I like to read fiction often. But, most times when I take a book off the shelf, I see that I have already read it at the age of 18," Latvia ex-president said.
Vaira Vike-Freiberga also touched upon the creativity of eminent Azerbaijani poet Nizami Ganjavi saying Latvia learned about him during the Soviet period, at the same time Western people were introduced to Nizami's manuscripts.
Europeans and Americans interested in art, evaluate Nizami as a brilliant personality.
"Unfortunately, there is no a complete translation of his Khamsa (five long narrative poems). Translation of the Khamsa to English, French, German, Russian, Chinese and Spanish is important for me. Naturally, it is hard to translate the poetry, which is 900 years old. But this surely should be done. I would like to conduct research on the poetry and structure of Nizami Ganjavi's works as I am interested in poetry," Vike-Freiberga added.

/Trend/