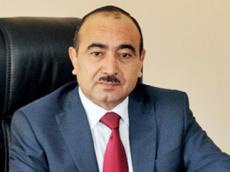 Various missionary organizations and religious groups, created outside of Azerbaijan and being systematically directed, recently began infiltrating the country, trying to create a network on Azerbaijan's territory, head of the Public and Political Issues Department of Azerbaijani Presidential Administration, Ali Hasanov said on March 7.
Hasanov made the remarks while speaking at a conference, entitled "Freedom of religion, missionary activity and the media", organized by Azerbaijan's Press Council.
"Azerbaijani state is a democratic, legal, secular and unitary republic. Religion is separated from the state, and the legal system, systems of management, education, public relations, employment, etc. have a secular character," the department's head said.
He said that at the same time there is a right for freedom of religion, free determination of attitude towards religion, the right to express and disseminate opinion regarding the religion.
Hasanov stressed with regret that Azerbaijan's dynamic development and the stability, civil solidarity, religious and national tolerance environment do not meet the interests of certain groups in the country, as well as forces and certain foreign circles outside of it.
He said some of these organizations and movements attempt to shape public opinion in line with their objectives, strengthen radical tendencies in the country, to obtain opportunity for imposing pressure on the state's legal norms and the managing system.
"The relations between the state and religion in Azerbaijan are regulated by the constitution, relevant laws and on the basis of international conventions, which the country has joined. All processes should take place not through intervention and pressure on the country's secular government system, society's social and legal norms, but within laws," he said.
The high-ranking official said the representatives of such movements try to achieve their goals through luring citizens into their organizations by various means, through subduing citizens to themselves, disseminating radical religious ideas and through other similar ways.

/Trend/