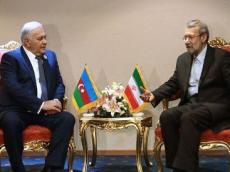 Azerbaijan is interested in further development of relations with Iran, Speaker of the Azerbaijani Parliament Oqtay Asadov said at a meeting with his Iranian counterpart Ali Larijani, the Iranian news ?SNA reported on Feb. 19.
The sides discussed issues of bilateral cooperation, as well as regional and international issues.
Asadov stressed the importance of mutual visits for further development of relations between the two countries.
Larijani also said that the development of cooperation is important for both countries.
Azerbaijan and Iran must also develop the inter-parliamentary relations, he said.
Asadov is participating in the ninth meeting of the heads of the parliaments of the Organization of Islamic Cooperation member-states, which is being held in Tehran.

/Trend/