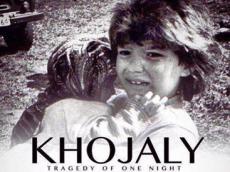 By AzerNews
Monuments in honor of the Khojaly victims will appear in a number of Turkish cities.
The monuments will be unveiled in Ankara, Istanbul, Ushak province and in the other Turkish regions within the events dedicated to the 22th anniversary of the Khojaly genocide, the Azerbaijani Parliament reported.
Azerbaijani MPs Elman Mammadov and Agil Abbasov will pay a visit to Turkey on February 18-27 to attend the events which will be held at the authoritative scientific and educational centers, municipalities, public organizations.
Chairman of the Parliamentary Committee on Regional Issues Arif Rahimzade and MP Rustam Khalilov will pay a visit to Ankara. At the events in Ankara Azerbaijani MPs will inform about the Khojaly tragedy, present documents and facts.
In 1992, the town of Khojaly, the second largest town in Nagorno-Karabakh region of Azerbaijan, came under intensive fire from the towns of Khankendi and Askeran already occupied by the Armenian armed forces.
613 civilians with 106 women, 70 elderly and 83 children were killed in the massacre. Meanwhile, a total of 1,000 civilians were disabled. Eight families were exterminated, 25 children lost their both parents and 130 children one parent. Moreover, 1,275 innocent people were taken hostage, the fate of 150 of them remains unknown. Civilians were shot at close range, scalped and burned alive. Some had their eyes gouged out and others were beheaded.