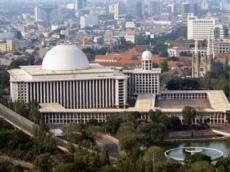 Commemorative event on the 22nd anniversary of Khojaly genocide was held in Jakarta, Indonesia as a part of Justice for Khojaly campaign on February 14.
The event took place at Istiqlal mosque, the largest mosque of Indonesia and Southeast Asia and the third largest mosque of the world.
Islamic Conference Youth Forum told
APA
that tens of thousands of people, as well as officials from ministries and other state bodies, religious figures attended the jumah and congregational namaz at Istiqlal mosque. During the jumah prayer, vice-president of Indonesia International Students Association Elmar Isgandarov gave detailed information about Armenia's aggression against Azerbaijan, occupation of Nagorno Karabakh and adjacent regions and Khojaly genocide, called on the people to support Azerbaijan and pray for the victims of Khojaly genocide. About 120 000 people attended jumah namaz at Istiqlal mosque. Following the jumah namaz, a number of religious figures and senior officials came up to Elmar Isgandarov, condemned occupation of Nagorno Karabakh by Armenia and said they fully support Azerbaijan in Khojaly genocide.
"Justice for Khojaly" International Awareness Campaign was initiated on May 8, 2008 by Leyla Aliyeva, General Coordinator of the Islamic Conference Youth Forum for Dialogue and Cooperation. The campaign for moral and political-legal recognition of the tragedy is successfully realized in more than 40 countries.