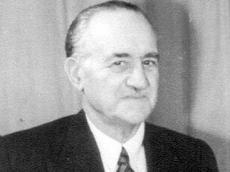 By AzerNews
An event dedicated to the 130th anniversary of Mammad Amin Rasulzade will be held in Azerbaijan's Independence Museum on January 28.
Rasulzade is one of the founders of Azerbaijan Democratic Republic and an outstanding political figure in the 20th-century Azerbaijan.
About 30 photos from the personal files of Azerbaijani historian Adalat Tairzade and books and documents from the museum's collections will be presented in the event's framework which is called "History's One Page".
Head of the Independence Museum Farida Shamsi, ANAS Prof. Shirmamed Huseynov and Prof. Solmaz Rustamova-Togidi, PhD in history Firdovsiya Ahmedova, historian Adalat Taizade, and Rasulzade's grandson Rais Rasulzade are expected to attend the event.
Recognized as the leader of the liberation struggle of Azerbaijani Turks, Mammad Amin Rasulzade not only defined the strategic line of Azerbaijan's national movement, but also directly supervised the origin and formation of Azerbaijan Democratic Republic, the first secular democratic state of the Islamic world.
ADR, which was established on May 28, 1918, is a significant part of Azerbaijan's history, and, although it existed for only 23 months, it brought about great progress in foreign policy and introduced Azerbaijan to the international community.
To appreciate the historical significance of this event not only for Azerbaijan, but also for the entire Islamic world, it is enough to recall that at that time there were only seven independent Muslim states in the world - Turkey, Persia, Afghanistan, Emirate of Bukhara, and three small monarchies of Inner Arabia.
In such an environment, the young political leaders of the Azerbaijani nation made a risky move.
After centuries of Russian domination, ADR was established after great ordeals, but the country soon faced the threat of a new aggression from the Soviet Bolsheviks. Form the very beginning, ADR's leaders realized the seriousness of the situation and did everything in their power to familiarize the international community with the problems facing the newly created republic.
Despite the fact that the newly created state existed for only about two years, Mammad Amin Rasulzade made the most significant contribution to the theoretical basis of modern Azerbaijani statehood and its practical implementation.
Rasulzade also contributed to the development of social and philosophical thought in Azerbaijan, Iran, Turkey, Germany, and Poland, writing numerous papers and articles on politics, international affairs, and the self-determination of the nation.