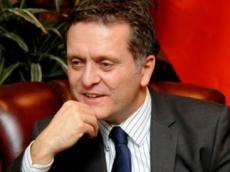 By AzerNews
Turkish Ambassador to Azerbaijan Ismail Alper Coshgun said the issue of resolving the Nagorno-Karabakh conflict will be discussed during French President Francois Hollande's visit to Turkey.
Hollande will pay visit to Turkey on January 27-28 at the invitation of his Turkish counterpart Abdullah Gul.
Coshgun told Trend Agency on January 23 that the settlement of Nagorno-Karabakh conflict will be touched upon during the meeting of Hollande with the Turkish president and prime minister.
"We raise the Nagorno-Karabakh issue as the most important issue not only in relations with France, but with all the countries of the world. There are two important issues from a national point of view: the Northern Cyprus issue and Nagorno-Karabakh conflict. This topic is sure to be discussed," Coshgun said.
He further noted during the discussion of this problem, the immediate restoration of Azerbaijan's territorial integrity will be pointed out as the most important issue.
"We urge France to play a more active role in this issue. We will once again bring it into attention in order to ensure the spread of the rapid development of Azerbaijan and the projects jointly implemented by Azerbaijan, Georgia and Turkey to the entire region and for Armenia was not be isolated from these processes," Coshgun said.
He went on to say that Armenia should act in accordance with sound logic by abandoning the aggressive policy and by acting in accordance with international law. "And we will ask substantive support of France in this issue," he said.
Armenia occupied over 20 percent of Azerbaijan's internationally recognized territory, including Nagorno-Karabakh and seven adjacent regions, after laying territorial claims against its South Caucasus neighbor that caused a brutal war in the early 1990s. Long-standing efforts by US, Russian and French mediators have been largely fruitless so far.
The UN Security Council has passed four resolutions on Armenian withdrawal from the Azerbaijani territory, but they have not been enforced to this day.
Coshgun also said during Hollande's visit to Turkey the development of bilateral relations, as well as ties between EU and Turkey will be discussed.
"France is a longtime ally, an important friendly European country for Turkey. But unfortunately, France has not played a positive role in the issue of Turkey's EU membership in recent past. We hope that a greater development will be achieved. We expect that France will take a more constructive stance on period of Turkey's full membership in the EU," he said.
This will be the first visit of French president to Turkey in 22 years.