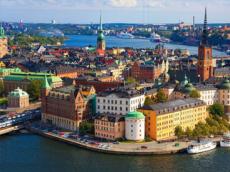 On January 16, 17, and 20, the Swedish Azerbaijanis Congress is going to mark the Black January tragedy.
The event will feature materials, books and documents on this tragic day of Azerbaijanis, when hundreds of civilians were crushed or injured by the Soviet troops in Baku on January 20, 1990, on an order from the USSR leadership that was trying to maintain the Communist regime in Azerbaijan and strangle the national liberation movement.
Every year Black January victims are commemorated with great sorrow not only by the people in Azerbaijan, but also by the Azerbaijanis throughout the world.
Though the Azerbaijani people suffered military, moral and political aggression, they displayed their ability to maintain the traditions of historical heroism and resist the cruelest attacks for the sake of the freedom and independence of their Motherland, even at the cost of losing their lives. The sons of the Motherland perished on January 20, 1990 while defending the freedom and independence of Azerbaijan and with their bravery made history in the chronicles of heroism of our country.

/AzerTAc/